22 Jun

The Latest Apartment Design Trends Your Renters Will Love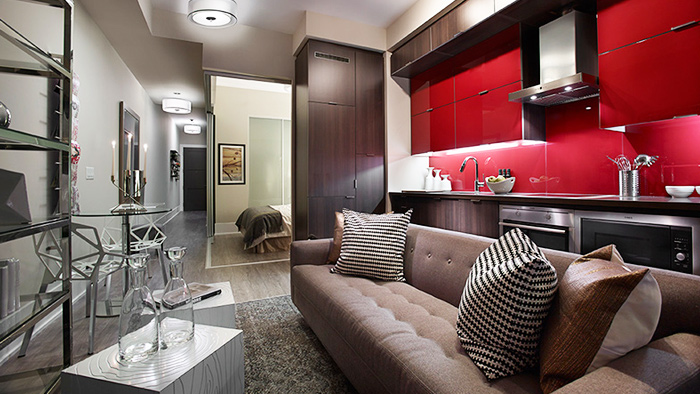 Half the battle of being a landlord is finding suitable tenants to lease your units. The real estate market in the GTA is becoming ever more competitive, with more and more landlords vying for renters' attention. 
In order to stand out from the crowd, you need to ensure that your rental units are looking modern, fresh, and appealing. Outdated, worn furniture and chipped paint won't get you very far. Instead, try implementing a few of these design trends to make your units competitive in the current marketplace. 
Choose a Popular Interior Design Style
When renters begin their hunt for a new apartment or condo unit, the first thing they will notice is the images of the apartment, whether they are looking for a furnished or an unfurnished property—the interior design in the pictures matters. By choosing a modern, popular interior design style for your rental units, you will immediately attract the attention of a much wider range of renters. Here are a few styles that will put you above your competition.
Industrial

– The industrial style has been incredibly popular in interior design for a few years now. This modern, minimalist look tends to consist of dark colours, exposed bricks and pipes, and modern, functional furniture. 
Rustic

– Think hardwood floors, tree trunk tables, and wooden ceiling beams. Rustic design with a modern twist will make you stand out from the other condos with bland modern designs.
Minimalist

– You can't go wrong with a minimalist design. Go for soft, muted colours and a few pieces of carefully selected decor. 
Art Deco Modern

– The mid-century modern look will instantly draw attention to your rentals. You'll be surprised by how many millennials are keen to live in a Mad Men-inspired abode. This style is incredibly popular at the moment, so you should find it easy to procure pieces for your units.
Whatever interior design style you choose, the most important thing is that you stick to it throughout the apartment. Nothing is more off-putting to renters than an apartment with haphazard, inconsistent design. 
Invest in Real House Plants 
House plants are all the rage in modern interior design. Show that you've put some extra thought and care into your rental unit by investing in a few house plants. You might also consider placing some live plants in the communal areas of the apartment building. 
Renters will be instantly drawn to your units. Not only will house plants make them look fresh, clean, and stylish, they will also send an important signal – that you are a trustworthy, reliable landlord. 
Upgrade the Unit's Artwork
Lots of landlords fall into the trap of skimping on the unit's artwork. While some renters will see past the cheap IKEA pieces you've hung up on the walls, others will immediately dismiss the unit in favour of one with trendier artwork. Plus, by upgrading your artwork, you'll show potential tenants that you take good care of your apartment units.  
Replace old, drab artwork with framed prints. Opt for a modern design with crisp, thin, modern frames and simple, abstract art that doesn't overpower the room. Try to avoid bright colours or anything distracting. The artwork in the unit should blend in with the room while pulling everything together visually.
Avoid Bold Trends and Stick with Classic Styles
When in doubt, stick to classic styles. Most renters want to see a beautiful apartment that they can personalise with their own style. Lots of renters will move around any furniture, rearrange or change the artwork, and add their own touches to the rooms. If you opt for bold stylistic trends, many renters will find it difficult to feel at home in the space.
For instance, avoid trends such as bold paint colours, patterned wallpaper, bold lighting fixtures, and so on. Instead, opt for styles that allow you to create a somewhat neutral and versatile look.
Del Condominium Rentals Offers Industry-Leading Remodeling Rates
Being a landlord comes with all kinds of unexpected tasks. If you're tired of the late-night maintenance calls, the competitive real estate market, or the nuisance of rent collect, Del Condominium Rentals are here to help. 
We are the GTA's favourite property management company. With decades of experience and a full range of services, you can sit back and relax while we do all of the hard work for you.
Our list of property management services include:
Professional property listing and marketing

24/7 property maintenance

Legal advice and supervision

Rent collection

Property valuation

Design advice

And more
To find out whether Del Condominium Rentals is right for you, visit our services page or today by emailing sales@delrentals.com
Are You Interested in Working With Del Condominium Rentals?
Submit your info below to download FREE eBook and learn more about our services, management cost and more