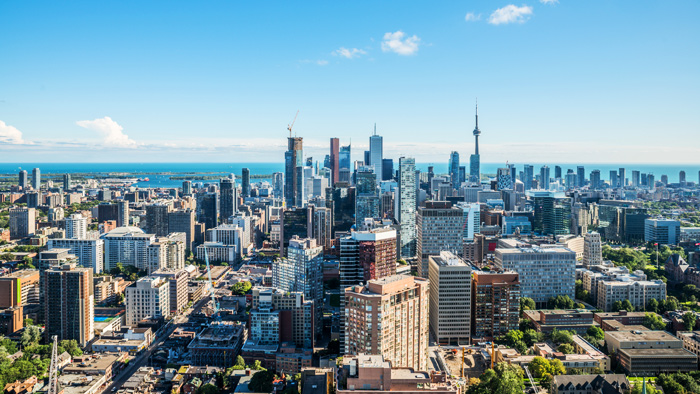 It's been coming for weeks: The news that the provincial government is moving to cool the Ontario housing market is no surprise, but speculation as to what changes would be made is finally at an end. Plans for specific measures to take control of Southern Ontario's skyrocketing housing market—and the squeeze it's put on both buyers and renters—were announced by the Ministry of Finance Thursday morning, under the banner of an Ontario Fair Housing Plan.
While the legislation has yet to be introduced at Queen's Park—which means there's a long process of consultation and implementation ahead before yesterday's announcement makes it into law—here are the highlights of what landlords can potentially expect going forward for property ownership and rental in Ontario.
The highlights
While all eyes are on the proposed 15% Non-Resident Speculation tax on home purchases—not unlike Vancouver's—which would look to discourage non-citizens, corporations, or non-permanent residents who aren't resident in the properties they purchase in the GTA, the measures that will likely impact renters, landlords, and hopeful owners of investment units are a slew of smaller ones designed to more closely enforce standards in the rental system.
The major change will be a move to expand the existing rent control system, which currently applies only to units built before 1991, to all units in Ontario regardless of age—that means rent increases would be legally required to fall under the provincial guideline for that year unless paperwork is filed for an above-guideline increase. The increase will be capped at 2.5%.
Combined with a proposal to develop a standard lease across the province, allow cities to enact a vacant homes tax, close the loophole that allows evictions for the landlord's own use of the property, prioritize elevator work orders in high-rises, and change process at the Landlord and Tenant Board, the announced initiatives add up to a significant rise in regulation of property rental in the province of Ontario. Add in developer incentives to increase housing stock, specifically targeted at rental-directed, low- and middle-income housing, and there will be enough competition coming online to create a market incentive, as well as a regulatory one, for landlords to double down on responsible practices.
For investors looking to enter the property rental market, a ban on "assignment flipping"—selling the title to pre-construction units before building completion, to make a profit on their deposit—is both an incentive to make considered decisions before putting down that deposit and a safeguard against paying twice the price for a pre-construction unit. Combined with new rules that would require buyers to disclose whether a unit was purchased for investment purposes, deliberation will be a definite plus when looking to buy a first—or new—investment unit.
The impact
Ultimately, analysis of yesterday morning's announcement is premature: All legislation changes somewhat in the process of debate, consultation, and committee hearings, and with so many interests affected—renters, owners, landlords, developers, municipalities, and more—the consultation process will likely be busy, with the government paying close attention.
However, taken as a snapshot of what the provincial government is hoping to accomplish in shaping housing accessibility, the clear winners are going to be responsible landlords. While a drive toward purpose-built rental housing is likely to change the condo rental market over time, this push toward regulation doesn't do much but legally formalize best practices in the rental industry: timely repairs, good-faith dealing, reasonable rent increases that a stable long-term tenant can pay, and working with a good knowledge of the Residential Tenancies Act.
There's also significant protection for landlords built into these regulatory moves: a standard province-wide lease—a measure already in use in Quebec—will go a long way to keeping new or inexperienced landlords from writing leases that aren't legal or leaving out important provisions that could protect them and their property, and significantly cut down on the amount of disputes that make it all the way to the Board.
Know your best practices
Treating the job of a landlord lightly has never been a winning play: between replacing unhappy tenants year after year, repairing damage, the time lost on misunderstandings, and—in the most serious cases—paying legal fees and fines after being brought up before the Landlord and Tenant Board, it's always cost more to be a disinterested landlord than an active and responsible one.
With yesterday's Fair Housing Plan, Ontario's housing laws seem set to make the cost of disinterested property management that much higher—and to provide a formal financial boost to landlords who treat their investment properties with professionalism and care.
If you're just entering the investment rental market or aren't sure that your life allows you to put in the kind of commitment it will take to run your rental unit to the standards the Fair Housing Plan lays out, it's a good idea to treat the legislation period as a head start. With a clear plan as to how you'll meet those standards, a financial plan that takes rent increase guidelines into account, and a clear idea of what you want your property to do for you, it's more than possible to treat tighter condo rental regulation as a chance to up your game—and build a better business in the process.