28 Feb

What You Need to Know About the New Ontario Standard Lease Agreement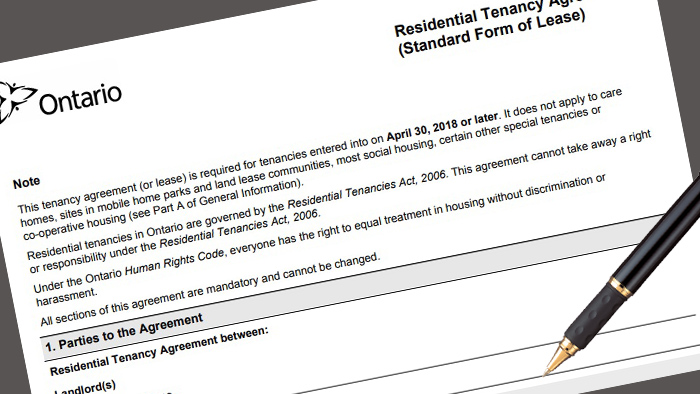 Are you a homeowner looking to rent out your condominium unit to a tenant? There are many laws governing the relationship between landlords and tenants that you must know before renting out your property.
The Residential Tenancies Act (the "RTA") sets out the rights and obligations of both tenants and landlords and sets the framework for everything related to the rental process, including rent payments, resolution of disputes, deposits, duration of the tenancy, and more. The RTA requires landlords and tenants to sign a formal lease agreement, which states the details of tenancy and protects both parties in case of a dispute.
Many lease agreements exist which use complex legal language to confuse or subvert tenants. In other cases, some landlords may make illegal demands through lease clauses that are legally unenforceable. Landlords and tenants should know their rights before entering into a rental agreement to protect both parties from potential abuse.
In 2018, the Government of Ontario introduced the Standard Lease agreement to simplify the rental process. This document is designed to provide clarity to both parties.
As of April 30, 2018, most residential landlords —whether they're a property management company or an individual landlord — are required to use the Ontario Standard Lease. Once signed, this document binds the tenant and landlord in a contract called the residential tenancy agreement.
What Are the Main Details of the Ontario Standard Lease?
The Standard Lease is a long document that landlords should familiarize themselves with.
Here's a basic summary of each section of this essential document and what they mean for landlords and tenants:
Note
The most important thing to take away from the note is that no one can create a lease that contradicts the Residential Tenancies Act. You could be breaking the law by demanding things forbidden by the RTA. The form is only valid for private residential units and cannot be used for care homes, mobile homes, land lease communities, co-op housing, and others.
1. Parties to the Agreement
The landlord(s) and tenant(s) full legal names should be noted here.
2. Rental Unit
The details of the unit, including if it's a basement, house, condominium unit, the unit's address, and the number of parking spaces.
3. Contact information
The landlord's contact information for giving notices and documents. Methods to contact the landlord can include mail, email, or phone.
4. Term of Tenancy Agreement
The details of the tenancy, such as when the tenancy starts, whether it's for a fixed term (e.g., one year) or month-to-month, or even weekly. The end of a lease doesn't mean the tenant must move out. At the end of the lease, the tenant may continue living in the unit under the original lease agreement's rules (if the lease was for a year, the lease automatically reverts to a month-to-month tenancy).
Evictions can only happen if the tenant has broken the law, such as not paying rent, damaging the unit, or other infractions under the Residential Tenancies Act. If the landlord sells the property or wants to move into it, they may ask the tenant to move out with a Notice of Termination.
5. Rent
This section states what the total rent will be, how often it's paid (monthly, weekly, or other), how it's paid (cheque, cash, online banking, etc.), and if parking and other services are included in the payment. Rent can only be increased one every twelve (12) months if the tenant continues to reside in the rental unit, and many rental units are subject to rent control by the Rent Increase Guidleline.
6. Services and Utilities
The landlord must state which utilities are included in the base rent price. Utilities may include heat, water, electricity, and other services. Landlords must also state which utilities a tenant needs to pay for. Electricity, heat, and water can either be paid by the tenant or landlord. If paid by the tenant, the landlord must provide the tenant with details on how to pay for utilities.
7. Rent Discounts
Some landlords may provide rent discounts such as rent-free periods up to three months within a year and other types of discounts.
8. Rent Deposit:
The common phrase "first and last" refers to the first month's rent and the rent deposit, which goes toward the last month of tenancy. A last month rent deposit cannot exceed the amount of one month's rent payment. Rent deposits are due on or before the beginning of the tenancy. Landlords must pay interest on rent deposits.
9. Key Deposit
Key deposits cover the replacement cost of any keys, access cards, or entry devices if the tenant loses them. The key deposit is returned once the complete keys are returned to the landlord at the end of the tenancy.
10. Smoking
Provincial law states that smoking is not allowed in common areas but allowed in the unit. However, the landlord may prohibit smoking in the unit in the lease agreement. Landlords can also evict tenants if smoking damages their property or infringes on the rights of others. Each condominium corporation also has their own set of rules and regulations regarding smoking, so it is important for a tenant to be apprised of their building-specific rules regarding smoking.
11. Tenant's Insurance
Landlords may require tenants to have liability insurance that covers unintentional or accidental damage to the unit, or people within the unit and any legal fees incurred from said damage. Tenant's insurance is designed to protect a tenant's assets in the case of accidental damage.
12. Changes to the Rental Unit
Tenants may install decorations like window coverings and pictures but cannot make any substantial alterations to the unit without the landlord's permission.
13. Maintenance and Repairs
It's the landlord's responsibility to make sure the unit is in good repair and complies with all health and safety standards. However, if the tenant causes any negligent or intentional damage, they must pay the repair fees.
14. Assignment and Subletting
Tenants have the right to assign or sublet their unit with the landlord's consent. The landlord cannot arbitrarily or unreasonably refuse the tenant's right to refuse a sublet or assignment.
15. Additional Terms
The landlord and tenant may agree to additional terms like changes to the unit prior to the tenant moving in, or rules for the usage of common areas or amenities. Additional terms cannot violate the Residential Tenancies Act or the Ontario Human Rights Code. Commonly-used unenforceable rent terms include: banning pets, banning roommates or guests, or any additional fees like security deposits or interest.
Del Condominium Rentals: The Easier Answer to Condo Management
There are many laws that protect the landlord-tenant relationship from abuse. As a landlord, a breach of a legal provision (whether intentional or unintentional) can cost you a lot of time and money in damages, legal fees and court appearances. That's why it's important to know your rights as a landlord in conjunction with the rights of your tenants.
The fear of bad tenants who refuse to leave, or even worse, damage your property is a nightmare for all landlords. The eviction process can also be painstaking and long. Being a landlord is a very serious commitment that binds you legally to your property and tenant for potentially years.
Why not relieve yourself of the stress, and hand over your condominium unit's management to a rental property management company? A professional condominium rental management company like Del Condominium Rentals can assist you with landlord-tenant legal disputes, day-to-day unit management, tenant communications, repairs, and maintenance on your behalf.
Our team at Del Condominium Rentals has years of experience as a rental property management company.
We provide a vast array of services that take care of the entire renting experience, including:
Simplified leasing and screening process. We help you find high-quality tenants that will respect your property.
24-hour emergency service. Tenants have access to a helpline to deal with emergency repairs.
Monthly rent collection. Our accounting team ensures rent is collected quickly and deposited to your account as soon as possible.
Maintenance and repairs. Our team takes care of all repairs promptly, ensuring your tenants are happy, and your unit stays in good shape.
In-house legal team. Our paralegal team provides complimentary legal services like drafting letters and legal notices and attending hearings at the Landlord and Tenant Board.
And much, much more. We make sure your entire renting experience is taken care of by screening your tenants, providing you with financial reports, and more.
Whether you're an individual looking to rent your unit or an owner of multiple units, we can help you keep your units filled with suitable tenants.
Why get involved with the hassles of being a landlord? Let our team of rental experts simplify the entire process for you. Get in touch with our team today at 647-952-3644 or by email at sales@delrentals.com
Are You Interested in Working With Del Condominium Rentals?
Submit your info below to download FREE eBook and learn more about our services, management cost and more