06 Jul

Get Outside: Mel Lastman Square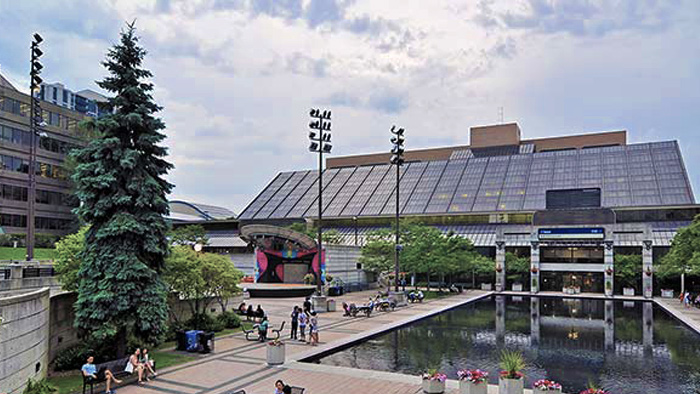 To way too many Torontonians, Mel Lastman Square doesn't mean much more than our former mayor and his current furniture commercials.  But since it opened more than twenty-five years ago, it's been a hub for the arts, cultural fairs, reading, lounging, and laid-back—usually free!—community activities.
So for the second installment of our Get Outside series, let's discover Mel Lastman Square.
A little background
The public square and courtyard of the old city of North York's civic centre, Mel Lastman Square is a huge, quiet gathering place for families, lunching city and TDSB staff from the huge offices next door by day, and a bright, robust cultural space by night and on the weekends.
With 20,000 square feet of both paved and green space, an pond that turns into an outdoor skating rink for winter, an amphitheatre, and outdoor table tennis spaces, it's no surprise that the square's in such high demand for large-scale festivals.  It's got the space to hold multiple events at once without anyone feeling crowded, and can spill into the huge North York Central Branch of the Toronto Public Library to cool off or host talks and sessions.
So what can I do there?
If you grew up in north Toronto, Vaughan, or the artist formerly known as North York, you already know that Mel Lastman Square has had an amazing live music game for decades.  Bands from the small-and-local level all the way up to Matthew Good, Finger Eleven, the Rheostatics, and most of the last twenty years of big-name CanCon music have played Mel Lastman Square, pretty much for free.
Sunday Serenades series spotlights swing, big band, and jazz bands, with more than enough space for you to dance under the stars.  With everyone from retirees to the local branch of Toronto's swing and Lindy Hop scene on the dance floor, they're a great excuse to dress up, slap on some femme fatale lipstick, and grab your favourite partner even if they're broke this week.
Friday nights in the summer are reserved for the Cultura Festival, which is going to cycle outdoor film screenings, R&B artists, fire-jugglers, dance companies, interactive exhibits from the ROM, hula-hooping, and more through the space every week.
On top of that, the square recently hosted one of the city's official Canada Day celebrations, with circus acts, free face painting, salsa and jazz bands, and fireworks—and they put on a similar large spread for New Year's.
Get a little culture
The old North York is one of the more diverse neighbourhoods in the City of Toronto, and Mel Lastman Square's programming does a great job at offering up space for the area's larger cultural groups to meet, mingle, and celebrate.
The square's calendar features Persian Family Day, the Latin Arts Festival, the Iranian Summer Festival, the Kurdish Festival, and the Korean Harvest Festival all coming up just this summer alone, and gives you a great chance to get to know your neighbours, share delicious treats, and get involved with cultural organizations and arts groups across the northern swath of Toronto.
Get yourself moving
While Mel Lastman's fitness game is more aligned to events like September's Health and Culture Expo and hosting the RBC Run for the Kids, it's right next door to the Douglas Snow Aquatic Centre, a large indoor pool and fitness space which offers both registered and drop-in fitness classes.  Douglas Snow's full schedule includes free swim and organized classes through the city, yoga, cardio, tai chi, and dance.
Or get a bite to eat
While it's surrounded by restaurants and shops as part of the Yonge-Sheppard corridor, Mel Lastman Square's branched out into the eats game hard.  Its Thursday farmer's markets have been a mainstay since 1994—officially before farmer's markets were cool—and span past the usual fresh fruits and veggies to cheese, meat, artisan bread, honey, herbs, preserves, and handmade soap.  For the day of, you can get fresh smoothies, cabbage rolls, pierogies, pies, and more ready-to-eat.
So, how do I get there?
The great thing about Mel Lastman Square is that it's super accessible: Located at 5100 Yonge Street, right above North York Centre Station, it's easy to get to—or home from—whether you're coming from downtown, the old city of North York, or Vaughan, Markham, and Richmond Hill via the Viva Bus and York Region Transit terminal one stop north at Finch.
There's also ample parking in various paid lots around the square, including a Green P on Beecroft Road, meter parking on the side streets in the neighbourhood, and underground parking at the civic centre itself.
—
With an abundance of free fun and its laid-back air during the weekdays, Mel Lastman Square is definitely a place to mingle with your neighbours, make friends, try new snacks and experiences, and be a part of the common space that is your neighbourhood.  Check out their event line at 416-395-7582 for the latest schedule updates, and get outside!