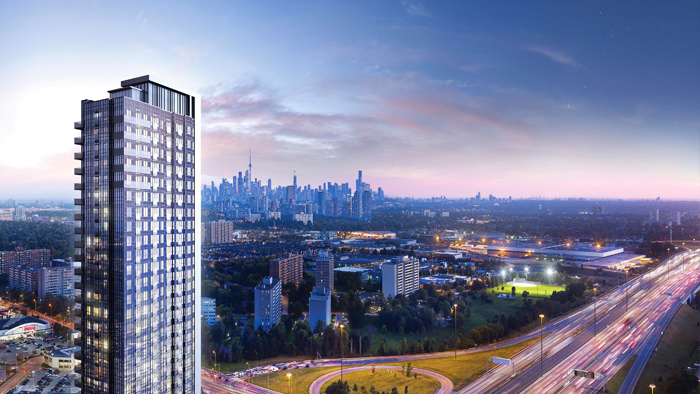 18 Apr

Four Reasons to Rent a Condo in Scarborough

Scarborough's got to be the town with the most mixed-up, contentious rep in the GTA: it's some people's fiercely-loved hometown, some people's ground zero for the Toronto music scene, and some people's wilds of Scarberia (neighbours, we've got to stop the hate here). Whatever you've heard about Scarborough, it's definitely mixed up in myth, pushback, and politics.

So why check Scarborough out when you're looking for your next home? Well, there are lots of reasons—and they aren't always the ones the stories talk about.
Scarborough has more communities per square inch
Scarborough was—and still is—the destination for decades of new immigrants to settle down in Canada, and those multiple waves of immigration have built an area that has more community in it than anywhere in TO. There are solid Chinese, African, Tamil, Indian, and Caribbean communities thriving in the borders of Scarborough, just for starters. No matter how you look or who you are, you're never going to be alone in a crowd when you're in Scarborough, and you'll be less likely to have to explain where you're from for the thirtieth time that week.
And Scarborough has the community resources to back that up. If you want to cook your grandmother's recipes and need that one special ingredient, there'll be three grocery stores that have it; if you're looking for a place of worship for your religious community, it'll be there; if you're looking for the true heart of multicultural Toronto, this is it. Scarborough has always been the place to build a stable home in a supportive community, whatever your background may be, while getting exposure to a whole bucketful of other cultures.
Scarborough is ridiculously safe
It's front and centre every time Scarborough gets bad press: the idea that Scarborough's a hotspot for violent crime. The myth of Scarborough as dangerous is one that's persisted for decades, and there are more than a few theories about who—or what prejudices—are to blame for that one.
Dig into the facts, though, and it's pretty clear, pretty fast, that Scarborough's violent crime rates are consistently—for the past twenty years at minimum—at least 3% lower than the rest of Toronto's, and those were already pretty low. North Scarborough, according to Toronto Police statistics, is the safest division in the city.
If you're looking at neighbourhoods based on security, and where you'll feel safe walking home at night, the stats have been clear for a while: Scarborough's your place.
Scarborough encompasses more than a suburb
The second big Scarborough myth is the Scarberia charge: That, like most of the communities that were, at one point, Toronto suburbs, Scarborough has nothing going on outside its mall. This could not be farther from the truth.
Scarborough hits all the urban living checkboxes in its City Centre neighbourhood, where most of the rental condo development has focused: a walkable, miniature downtown with a mix of offices, residential, and things to do. In short, think Liberty Village, but surrounded by the kind of greenery and parklands you'd have to drive out to Muskoka to enjoy.
Because Scarborough is also greener than any other part of Toronto. It's home to Rouge Park, Canada's first Urban National Park, where you can go hiking, spot deer in the Rouge River Valley, learn about the Paleolithic history of Toronto, and have picnics. It's the equivalent of teleporting to Algonquin for the cost of a TTC fare, minus the bears, and being home in your own bed by nightfall.
Scarborough has transit everywhere
The big stumbling block for many Torontonians considering a move that doesn't involve downtown is transit: How to get to friends, jobs, and family in other neighbourhoods. But no matter where you go in Scarborough, you're connected.
Scarborough is the only outer borough in Toronto that's 100% accessible on the TTC. No matter the neighbourhood, if there's not a subway stop, there's an LRT; if there's no LRT, there's a dedicated bus route. The commuter nature of development over the years in Scarborough means it's been connected, reliably—even if it might mean a full bus ride in rush hour—for years now, and you'll be able to map your routes with ease.
The realities of renting in Scarborough are a living demonstration of why it's important to look past the hype, whether that's good, bad, or just kind of ridiculous. If you're looking for flexibility and community, look into a Scarborough condo. It's got more to offer than you'd think.
Find A Condo Rental Today In Scarborough
Are you looking for a condo rental in Scarborough? Be sure to search DelRentals today for your next place to live. If you are looking to rent out your condominium for passive income, contact us today.