26 Mar

Condo Sized Furniture Stores in Toronto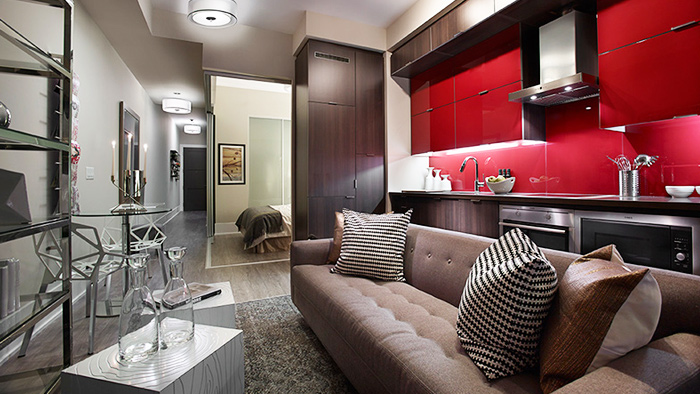 Congratulations!  You've moved into your brand-new condo unit—and that old furniture doesn't fit.  Whether you're downsizing from a house or graduating from the student furniture you've had for years, here are some condo sized furniture stores in Toronto to find that compact TV unit, those stylish bedroom shelves, and that fold-up standing desk—and make your new space great.
High-End
Liberty Village's CasaLife specializes in classic, lush loft-style furniture: leather chairs, elaborate dining tables, and glamorous ottomans that will add a touch of flair to your larger condo or loft space—if you can meet the price tag.  But the higher price point doesn't just provide solidly built furniture: many of CasaLife's pieces come with options to choose from, and their customizable features can make that unique accent piece stand out.
If you're the type to rattle off furniture designers by name, Design Within Reach is your first port of call.  This King West store specializes in unique, modern designers—no knock-offs—including exclusive-to-them collections.  The price tag isn't modest, but with a client list that reads like the Fortune 100, it's geared for elegance, quality, and flair.
Mid-Range
CB2—a Crate & Barrel offshoot at the corner of Queen and Bathurst—is chock full of decidedly modern looks aimed straight at that sleek, open-concept downtown condo.  Painted metal tables and glass fit right into a reclaimed industrial aesthetic, and multifunctional touches like bar stool chairs and secretary desks let you make prep space into eating space or work space in the blink of an eye.
If you're more into an antique, art deco, or vintage look, Mrs. Huizenga's, at the foot of Roncesvalles, is one of Toronto's better-kept secrets.  A bright, curated collection of vintage furniture and unique decorative pieces, Mrs. Huizenga's is a great source for bar stool chairs, luxuriant end tables, storage-efficient armoires, and other one-of-a-kind accent pieces that can make the most of your condo space.
Also at Queen and Bathurst, Urban Barn does what it says on the tin: rustic, solid, contemporary pieces with a stable stock list—it's rare to have your piece backordered here.  Sitting at the lower end of mid-range, Urban Barn's wood-and-metal aesthetic, paired with its bright upholstery prints, is a great choice if you're looking to warm up a glass or concrete space.
Brooklyn's West Elm opened its first international store in Toronto's Liberty Village, surrounded by condo dwellers with a taste for a clean, crafty aesthetic and contemporary design.  West Elm offers both rustic and modern looks that customize well when combined with their collection of textiles, cushions, and décor.
Affordable
Brand-new consignment store Elle & Eve opened January 29th on Orfus Road, with 10,000 square feet of furniture for lovers of the baroque.  It's a furniture store with a fascinating twist: Consignment providers can choose between a traditional consignment arrangement or charitable consignment, which allows Elle & Eve to donate the proceeds of the item's sale to the charity of the consignor's choice.  So far, Elle & Eve's offerings lean toward mid-century and vintage, but they're sure to develop as the concept finds its feet.
Liberty Village's EQ3's tidy showroom is geared for everything a new condo dweller could ever want, with a section explicitly for apartment sofas and a clean, simple loft aesthetic.  Simple, compact, and light are the focus here, with pieces ranging from quite affordable to a higher-end line made from reclaimed teak.  What's more, EQ3 also stocks bedding, rugs, lighting, mirrors, and diningware, making it a great destination for a little one-stop shopping.
The Hudson's Bay Company focuses more on clothes and housewares these days, but in the less-trafficked corners of their stores, they also stock a large range of rustic and mid-century furniture at reasonable prices, including lightweight sofas of all sizes, bright accent pieces, and dining sets that fit compactly into an open-concept space.  The trick, though, is to check out their semi-annual sales—that's when you can make a decent deal into a great one.
It's an oldie, but a goodie: Ikea's been in the business of build-it-yourself furniture that makes the most of your space since most of us were young enough for meatballs and the ball pit.  Their famous in-store showrooms demonstrate how you can maximize your condo space, and they specialize in clean lines, customizable finishes, and affordable storage solutions that don't get in your way.  Best of all, they deliver, making it that much easier to get your new bookshelves or media centre home.
Local
Another option for finding condo-sized furniture is to buy local. Toronto has a local maker, KROFT+CO that designs and makes furniture for urban living. They pride themselves on sourcing, designing and making everything in Toronto. Their furniture has a simple, modern and clean aesthetic that is dimensioned for condo living. KROFT+CO furniture can be purchased online or at their upcoming retail outlet.