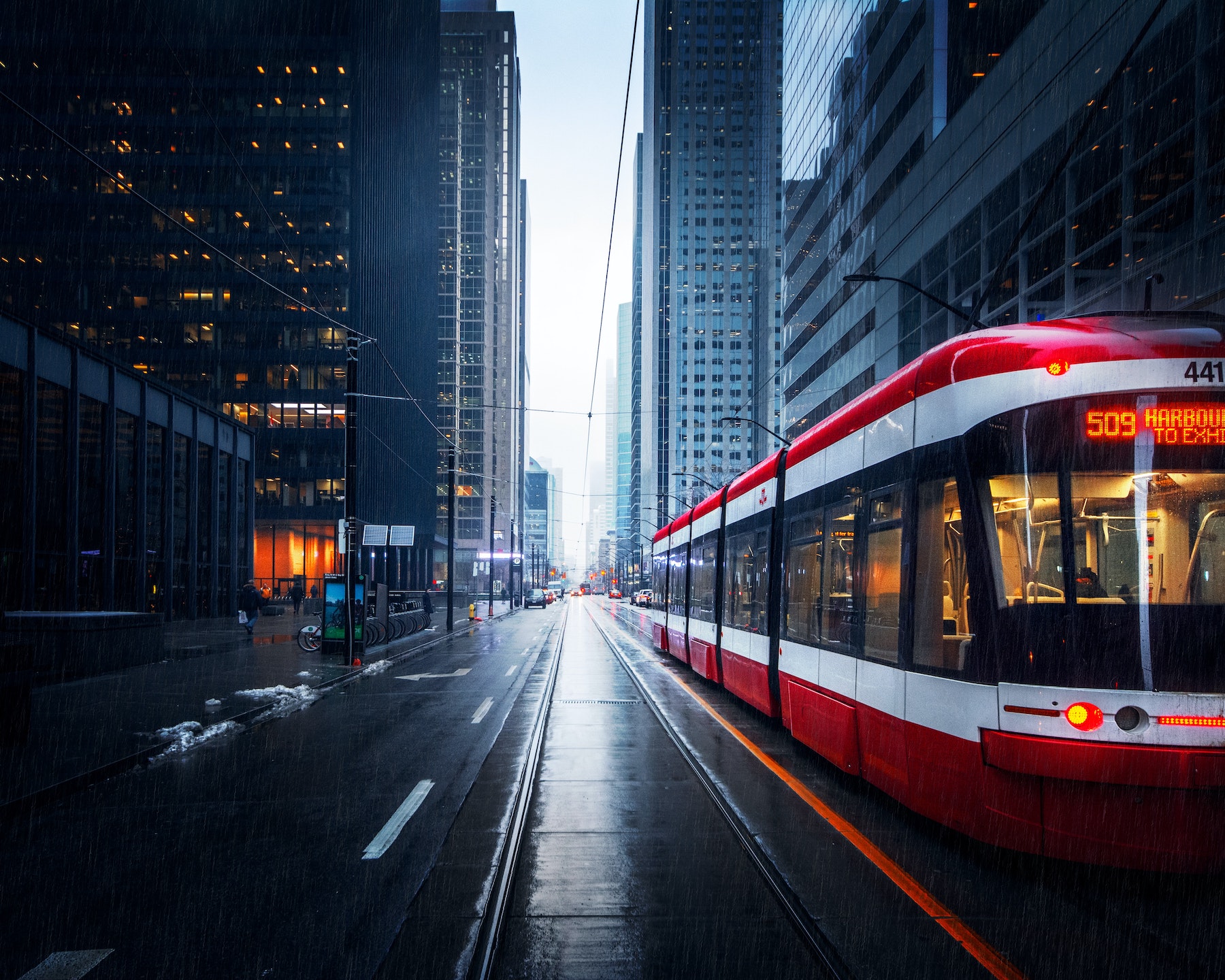 20 Mar

Toronto Condo Rental Market – February 2023

Are you staying up-to-date on the latest market updates for February?

February saw increased rental rates, declining new listings, and shifting demand. As winter turns to spring, we are seeing a lot more rental activity. We'll examine what is happening in the Greater Toronto Area for the condo rental market and what it means for tenants, property owners, and managers.


The GTA condo rental market showed renewed strength during February at near record-high rent levels. Market conditions tightened last month as new listings decreased 9% from January, compared to a 2% month-over-month decline in lease transactions.

February also showed us that demand growth was all but temporary. The sharp uptick in listing volume and unique prospects of January was completely reversed in February. Property counts were uneven across the country with primary and tertiary markets both showing declining availability throughout. The decline in listings and leases across the country suggests that many prospects end their rental searches without having found a rental property within their budget.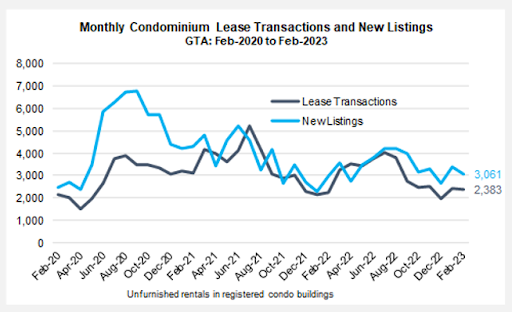 At $2,752, average rents in February were 13.9% higher than a year ago and 14.8% higher than three years ago just prior to the start of the pandemic.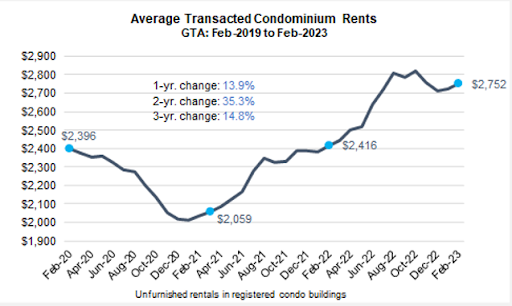 February saw an -8% decline in unique prospects, a stagnation of property availability suggesting that the market is gradually becoming more competitive for rental properties as renters decline at an accelerated rate.
February saw the greatest movement in the market, but not in a positive way. Of the previous 12 months, RentSync, Toronto's top ILS provider, reported in their March Market Watch report, the total lead counts have declined across the country, with Toronto (a 26% decline) and Mississauga (a 31% decline) showing the largest decline in new leads.
Historically, February represents the final month of declining rental demand before the gradual Spring boom suggesting that February's decline is likely to be no more than a temporary inconvenience and March representing the first month of renewed renter interest.
Although too early to tell whether demand will continue to decline, or whether it will truly rebound in March as past years suggest; rental property owners and managers across the country can be confident that they will continue to see strong market rents due to the basic imbalance between the available supply of rentals, and the increased mortgage rates, which may increase the growing population of renters across the country.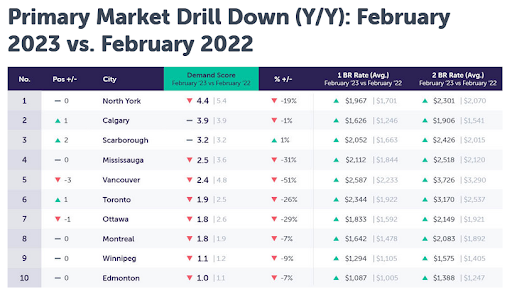 *Year-over-year demand scores are down -20.6%, prospects are down -0.2%, and properties down -22.5%
For the first time in recent memory, primary markets are showing an annual decline in prospect counts (demand score) suggesting that the growth attributed to returning renters has finally ended, and the market is likely to continue showing signs of cooling into the foreseeable future.
February 2022 was a period of strong leasing activity with much of the country slowly exiting covid restrictions and re-opening to conventional life. The available listings drove competitive market rents which increased overall leasing activity.
As vacancy rates declined in the later part of Summer 2022, the increased market rents now capture a completely different rental population as rents are no longer becoming affordable for most.
A lateral move for renters, could cost them an increase of 30% in rent with a similar unit type.
Although vacancy rates are at an all-time low, and renter counts have begun declining, primary markets will remain in a better competitive position relative to early 2022 due to the higher relative number of available prospects per available property +28.7% year over year.
Irrespective of the current rental market conditions, property owners must now prioritize more than they have in the past 3 years, to focus on improving their leasing practices and funnels to ensure they attract top-notch leads to fill vacancies. The best approach to attracting a greater number of high-quality leads, is to increase visibility in the market place by expanding to multiple listing sites for maximum exposure and working with professional management companies with reputations for success in the rental market.
Looking Onward To March
Throughout February, the rental market for condos in the GTA showed both stability and swings. It remains to be seen if the market will continue to slow down and recover in the upcoming months as we move into the spring season, which usually is a time of increasing renter interest. It's important for property owners and managers to modify their leasing tactics to the current market conditions, concentrating on collecting high-quality leads and increasing their visibility. Keep an eye out for our upcoming update, where we'll keep you updated on the newest insights and trends in the always evolving world of GTA condo rentals.

Are you looking to get started into condo rentals? Be sure to contact DelRentals today to learn more about how to generate more passive income from your property.
Sources: